Biography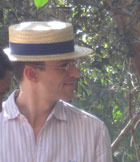 Justin believes that good, practical and interesting design enriches our lives, and that good design is more than just a veneer: it should permeate and unify every aspect of a scheme, delighting the senses and the intellect.
His knowledge and understanding of the design of buildings, their interiors and their settings, from antiquity to the 20th century, stems from a lifetime of interest and study.
Justin has a degree in History of Art; an M.A. in Architectural History from the Courtauld Institute of Art; and has worked for the Georgian Group; as a Conservation and Design Officer for the Royal Borough of Kensington and Chelsea; and, from 2004 until early 2013 as an Historic Buildings Inspector for English Heritage.
Justin is used to working closely with owners and architects, as well as local planning authorities, advising on alterations, extensions and new-build, from rural cottages and urban terrace houses to cathedrals and country houses.
Working alongside your own architect or builder, Justin can provide as much detail as is required, from general sketches to detailed proposals, and can negotiate these design issues with local planning authorities.
Justin's designs are inspired, but not constrained by his knowledge and understanding of the immense variety and diversity of historic design. He can bring a level of academic integrity and informed originality, either to the design of an entire project, or to resolving a single design issue; each design carefully and individually tailored to your precise and unique requirements.